Happy What I Ate Wednesday!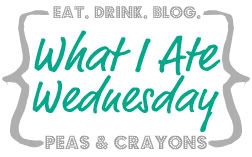 Is it sad that I can look at pictures of food for hours?
In other words, last night I spent a few solid hours looking through the food section on Pinterest.
I came up with a million different recipe ideas and inspirations, but forgot about each of them upon finding a newer, more inspiring recipe. When Will came over I invited him to join me in the sport of food gawking, and we both sat with locked eyes, scrolling down the page and falling deeper into a joint downward food spiral.
Especially when it came time to stare at these cinnamon roll cupcakes:
Will: "Make those! With the icing. Extra Cinnamony."
For those of you heading over here from the What I Ate Wednesday party, I am so sorry for teasing you during your first visit. It wont happen again.
Breakfast:
I talked myself out of having my new cinnamon Puffins for the sake of making the box last longer than a few days. Luckily, I was sensible enough to not even try to talk myself out of turkey bacon.
I served myself two slices of Ener-G toast smothered in Sunbutter,
a handful of fresh strawberries (because Costco allows me to eat out-of-season fruit for less
)
and four slices of turkey bacon.
Excuse me while I gawk.
A bit to think about: Do you ever catch yourself food gawking?