Good morning & happy WIAW!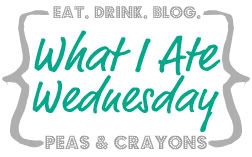 I'm so glad that all of you enjoyed my introduction of Will! (He was checking your comments for the entire evening because he wanted to know what you all thought haha.) Some of  you have some crazy love stories  (Laural & Jen
) and I'm so glad that you shared them with me. There's just something about hearing cute lovey dovey tales that makes me revert into ultra-girly giggly mode… (Don't judge me)
Last night's eats:
Ener- G light brown rice toast with cottage cheese and Whole Foods Indian Lentil Quinoa Salad with zucchini fries and ketchup on the side.

Why have I never made zucchini fries before? I'm usually not too much of a zucchini fan, but this is definitely my new preferred method of cooking it.
This morning's eats:
(Bacon face, anyone?)
2 slices of Ener- G light brown rice toast with Maranatha almond butter and a sliced banana. On the side I had four (yes, I've upped the ante) slices of turkey bacon.
And coffee in a Tigger mug
If you guys thought that bowling & salsa classes were cool—you have no idea what else I've got up my sleeve…
I'm about to head out for my first Personal Fitness class of the semester!
Not going to lie, I'm pretty stoked to get credits for learning how to work out more efficiently. This is one of those topics that I would be researching anyway on my own, so it's like a two-in-one deal! (and I will definitely be sharing the tidbits that I learn on the bloggie as well)
Have an awesome Wednesday! I'll be back with a recap of my class a little later
A bit to think about: Have you or would you ever take a class that involved exercising for credits?