Happy WIAW!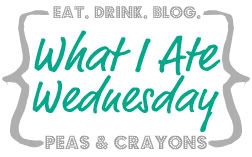 With no idea what my body was craving last night for dinner, I threw together a random concoction of ingredients.
I sautéed some diced onion and garlic on the stove, mixed in some shiitake mushrooms, chickpeas, tomatoes, cumin, and dried basil, then combined it all with some Pasta Slim spinach fettuccine.
It was definitely too random of a meal to make for a crowd or a dinner party, but it hit my food spot (Although that's one target that is pretty hard to miss
)
Oh, I forgot to mention—after I finished baking my toffee-oat bars yesterday, Chuck Bass picked me up for an afternoon on the town! (Sorry Will—I don't think I mentioned this part of my day to you either… whoops!)
We had a great time but he kept taking photos of the two of us with his camera phone. I guess he's planning to update his blog today too
Okay but really– I've decided that it would be a fabulous idea to select one picture from my wide assortment of FaceInHole images each week to put on the bloggie. However, the photo above is actually a REAL picture, so I guess we'll begin that installment next week?
For breakfast, I dined in style with a wine glass parfait.
 Into the mix:
    Greek yogurt
    Raspberries
    Blueberries
    Banana slices
    Kamut puff cereal
!Bueno!
I have a dentist appointment in a few hours (yikes) and am not looking forward to having my teeth cleaned and prodded
(Especially since I can't even remember the last time that I went to the dentist… whoops again.)
Have a fabulous Wednesday– I can't wait to see how you all celebrated WIAW!
A bit to think about: Are you afraid of the dentist?
or
Have you ever had an afternoon on the town with a celebrity?